Leading Tour Operator
open
The world is yours… choose Malta and live the moment!
close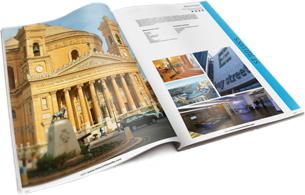 Read our brochure
Leisure 1st is an ever-expanding tour operator and destination management company located in Malta, the beautiful island cradled in the heart of the Mediterranean Sea. Formed in Malta back in 1993, Leisure 1st has been satisfying the needs of countless travellers from all over the world, specialising in promoting Malta and Sicily to various markets.

With a particular focus on promoting Malta to the European and Eastern European markets, Leisure 1st has successfully completed countless endeavours in leisure, meetings, incentives, conferences and events, and our vast portfolio is a sign of our success. Our team of professionals are young, friendly and above all, versatile, allowing us to adjust our travel services depending on the organisation or individual. We offer services to travel agents, tour operators and various travel organisations in and outside of Malta, including schools, companies and private firms seeking to travel to Malta, Sicily, Russia, Ukraine, Bulgaria and Poland.

Leisure 1st's travel expertise includes individual holidays, group holidays, VIP travel, MICE travel (meetings, incentives, conferences and events), seminars, yacht charter holidays, cruises, excursions, tours, special interest travel, children's holidays and youth camps, amongst others.

We provide tailor-made leisure programmes that are diverse, creative and above all allow our travellers to make the most out of their holiday in Malta or elsewhere. We plan our travel services with a price-conscious approach, and our expertise allows us to create the perfect travel plan no matter your tastes.

We can also assist our clients in choosing from a diverse selection of Malta accommodation and flights from local and foreign airlines, ensuring that your holiday plans are simplified from the very beginning. Allow Leisure 1st to take care of getting you to Malta, helping you arrive safely home again and everything in between.

Our promise to all of our clients is to ensure the best holiday experiences for each of our clients.