Our Latest Blogs
from around the Maltese Islands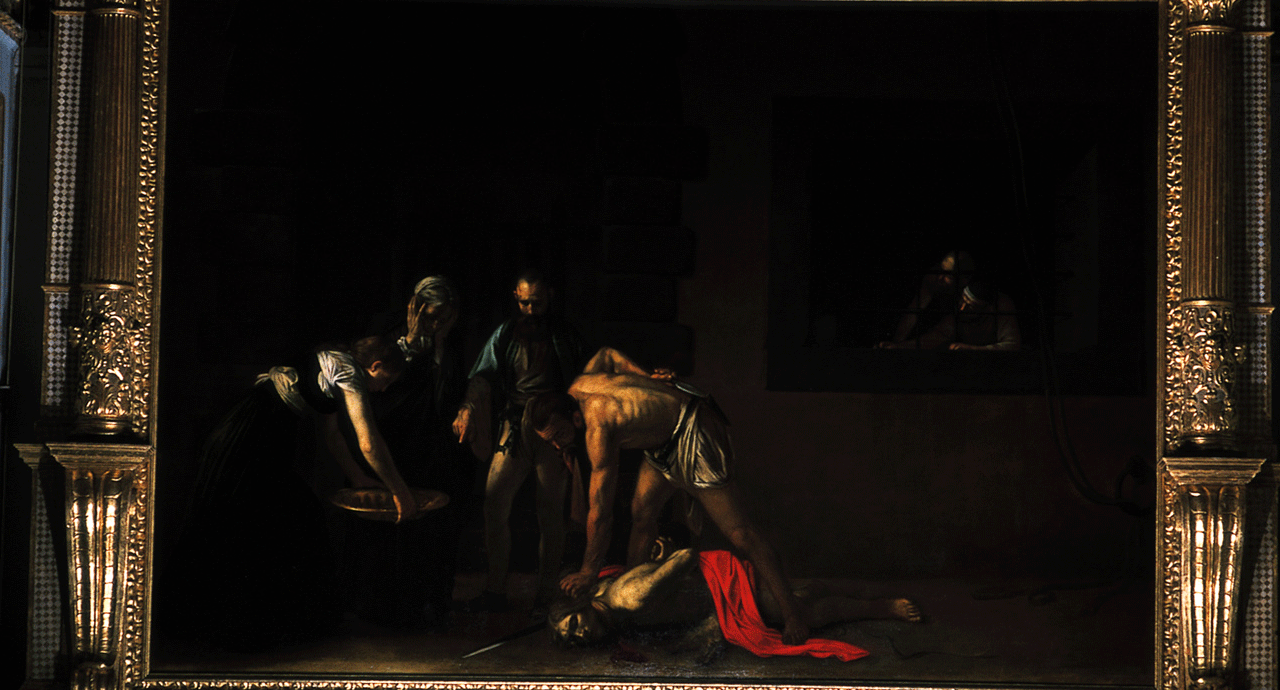 The Italian painter Michelangelo Merisi (1571-1610) is known to everyone better as Caravaggio. In his paintings he renounced the beauty of the human body, idealized by Renaissance painters. In order to show realism, he introduced sharp chiaroscuro to his works. It all revolutionized the 16th century art world.
In Rome he was known for a series of controversial works, but he was described as a man capable of violence. He escaped from Rome and hid in Naples for several months after he murdered a man. At the end of 1607 he escaped to Malta.
Here, Caravaggio was welcomed as a famous artist and produced several works for the Knights of Saint John, including the famous Beheading of Saint John the Baptist for the Oratory in the Cathedral of Saint John. This work remains the only signed painting by Caravaggio. The artist spent 18 months in Malta and used this time to create 6 paintings. In July 1608 he was admitted to the Order as a Knight of Justice, but only two months later he was captured for an unspecified crime and imprisoned in Fort St. Angelo.
He escaped to Sicily, but was expelled from the Order and spent the next two years on the run. During this period he created some of his best paintings - darker and more twisted. He died in Italy; the cause of his death remains undiscovered.
Another great creator is Mattia Preti, called Il Cavaliere Calabrese (1613-1699) - Italian painter and fresco artist of the Baroque period, caravaggionist. He spent his youth in Naples. In 1630 he went to Rome, where he collaborated with his older brother Gregor who was also artists.
With his move to Malta in 1659, his most creative period began. Preti arrived in Malta in the hope of gaining patronage under the Knights of St. John. He was employed by the Grand Master de Redin to create an altar for the Chapel of Aragon Langue in the Cathedral of St. John The knights were so impressed that the following Grand Master, Raphael Cotoner, asked him to decorate the entire vault of the cathedral with scenes from the life of St. John the Baptist. The artist was appointed the Knight of Grace, which meant that he received the nickname "Il Cavalier Calabrese" (Knight of Calabria).
Preti lived the remaining forty years of his life in Malta. He died in 1699 and was buried in the Cathedral of St. John in honor of his invaluable contribution to its beauty. Currently, it is The Museum of Fine Arts in Valetta that has the richest center of the works of Mattia Preti, which should not be missed.
Cavalier Antoine de Favray (September 8, 1706, Bagnolet - February 9, 1798, Malta) was a French painter. He portrayed the personalities of the Ottoman Empire as well as the Grand Masters of the Order of Malta. In 1762 Antoine de Favray moved to Constantinople, where he spent the next nine years. During this period, he painted a large number of genre scenes from everyday life in Turkey during the time of Louis XVI, he also portrayed local and foreign dignitaries. Especially the two portraits are noteworthy, namely the portrait of the French ambassador Charles Gravier de Vergennes (1717-1787) painted in 1766, who lived in Constantinople in 1754-1768, the other is the portrait of his wife, Annette Duvivier de Testa (1730-1798) ), painted two years later. Favray painted them both in rich Turkish costumes.
D'Arena Giuseppe [approx. 1643-1719]
To this day, it is unclear whether D'Arena was Maltese or Italian, but it has been proven that he lived in Malta from an early age. Undoubtedly, his artistic output is Maltese. D'Arena Giuseppe was the son of Matteo and Appolonia (probably Italians). Most likely, he studied art with Mattia Preti and managed to develop his unique technique and style. He was known as Il Romano, perhaps because he spent a long time in Rome. Today his works can be admired in churches in Malta and Gozo
He died on July 7, 1719 as a result of a long illness that made him blind. D'Arena Giuseppe was buried in the Carmelite Church in Valletta.
Filippo Paladini (1544-1614).
Considered one of the greatest Italian mannerists. He was a Tuscan artist who spent his life in Sicily and Malta. It is said that he first came to Malta as a prisoner, paddling on a galley. Just a year before in 1586, he was arrested on the grounds of a court sentence after beating a person in Florence with a knife. Paladini chooses the option to row on a galley as prisioner than to spent three years in prison cell. Appreciating Filippo's talent, Grand Master Verdala commissioned him to carry out some works at the Verdala Palace and some paintings in the churches. After this brief period, Paladini moved to Sicily, where he was very productive and popular, and was still a frequent visitor to Malta because of his good relations with the Order of Malta. Today his work can be seen in Palermo, Messina, Catania, Vizzini, Enna, Monreale, Modica, Ragusa, Caltagirone, Caltanisseta and many other places in Sicily. There are also many of his beautiful works in Malta. Filippo Paladini died in Mazzarino, Sicily in 1614.
Francesco Vincenzo Zahra (1710-1773) - a unique Maltese artist. He was a baroque painter inspired by the Neapolitan Baroque style. Interestingly, Zahra never visited Naples, but was strongly inspired by the works of the famous Mattia Preti. Zahra's works include many religious paintings, including altars and other large paintings for churches, vaulted murals, and devotional paintings on private orders. Francesco Vincenzo Zahra is also the creator of many portraits and some furniture in churches, but he also created in marble.
Giuseppe Calì (1846-1930) was a Maltese painter, born in Valletta of Neapolitan parents and educated at the Accademia delle Belle Arti in Naples. Cali was an incredibly creative and active artist - in almost every church in Malta, visitors today can admire his works, and according to one of his grandchildren he was called "The Devil with a Brush". Giuseppe Calì died in Valletta and his figure was commemorated by a monument placed in the Upper Barrakka Gardens. His famous work - "The Death of Dragut" can be seen today at MUZA (National Museum of Fine Arts - Valletta).